Fresh Food on Myrtle Avenue
Fresh Food on Myrtle Avenue
 
Bringing fresh food to those who need it most is not a simple task. It takes the dedication of a large community network to get the job done. This week, we are highlighting one of our Community Connect partners, Myrtle Avenue Revitalization Project. Community Connect partners place wholesale orders with Corbin Hill and then create their own Farm Share. This allows the Community Connect partner more choice and flexibility in what they offer to their participants. MARP is part of the Myrtle Avenue Brooklyn Partnership which is comprised of the two entities, MARP and Myrtle Avenue Brooklyn Business Improvement District (BID). The Partnership works together to assist the small businesses located along the Avenue and improve the quality of life of the surrounding neighborhoods.
Since 2003, MARP has been implementing multiple community food access and nutrition programs that educate and advocate for expanded healthy food options. In their newest initiative, MARP has partnered with Corbin Hill Food Project to bring affordable, quality food options to Fort Greene and Clinton Hill residents. Through Community Connect, MARP is able to offer Farm Fresh Boxes on a sliding scale of $10 or $12 each with the support from the USDA Community Food Project program.
Shaquana Boykin is the Program Manager and in speaking with her about the program she emphasized the power of people. In order for the Community Connect program to run, a network of dedicated volunteers is vital. The program adds an extra degree of choice for its participants by allowing them to personally select 4 of the 6 items that go into their box. Participants are sent an email with a form to fill out indicating which 4 items they would like.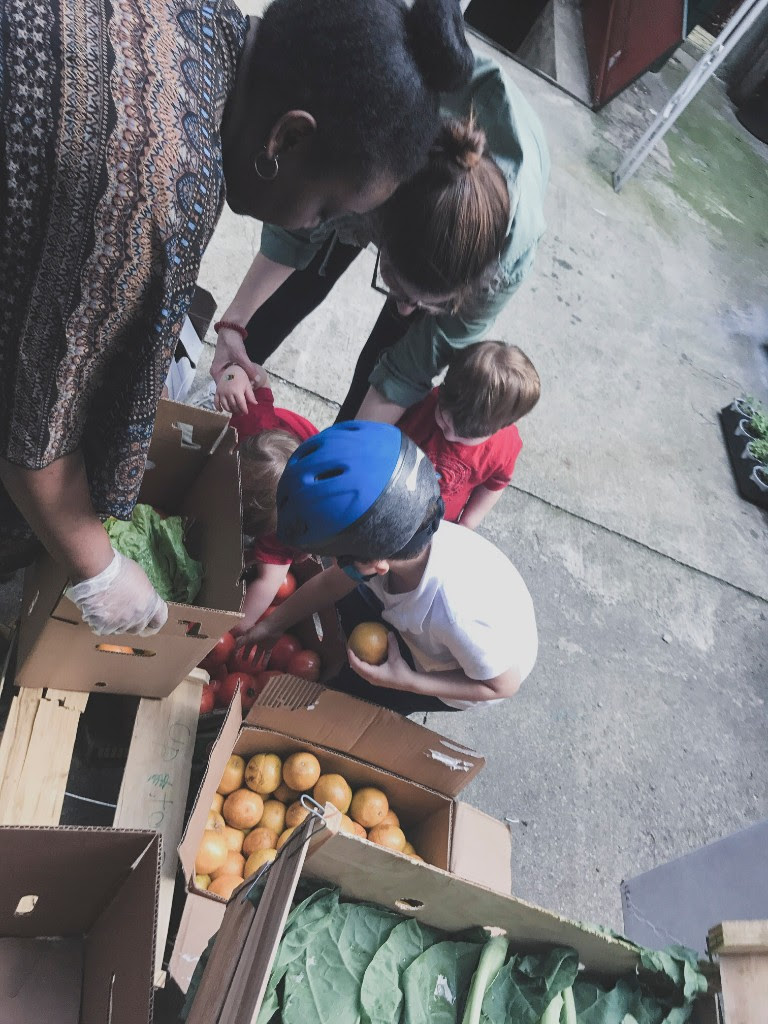 The other two items are randomly selected for them. This process allows participants to have a sense of buy-in and deeper connection with the program since they have a hand in the decision-making process. The two randomly selected items allow the participants to branch out and try new items they may have bypassed in the grocery store. This extra element of choice requires the participants to take ownership of the program by volunteering to pack the Farm Fresh Boxes.
When asked about the volunteer's role, Shaquana said: "Volunteers build the program. Without them, we would not be able to operate through wholesale. When people come to help with packing a box, they are learning more about what's in their community and the food system. It has become a wonderful culture of community." Shaquana added that she loves chatting with participants about where food comes from and what simple dishes can be made out of the items in the box.
Programs like Community Connect embody CHFP's values in that it is not solely about bringing food to those who need it most. It is about building a culture of community around food and allowing people to become part of the decision-making process. CHFP is excited to continue this relationship and hopes to build more like it in the future.
If green beans aren't one of your top veggies, it is because you have never had FRESH green beans. Forget those frozen, mushy green beans, fresh green beans have a bright, sweet flavor with a crisp bite. This week our green beans come from Upstate Growers and Packers in Oriskany, NY.
 
Ingredients
1 pound trimmed green beans
1 pint cherry tomatoes
Extra-virgin olive oil, for drizzling
Salt and freshly ground black pepper

Recipe adapted from Rachael Ray
Cook Time: 35 min

Directions
1. Heat oven to 450F with an empty baking sheet on an upper rack
2. Coat beans and tomatoes with olive oil and season them with salt and pepper
3. Add chopped garlic, shallots, or onions if desired
4. Pour the beans and tomatoes on the hot baking sheet and roast 22-25 minutes until caramelized, serve as a side to your favorite protein
Revision from Last Edition
Alexis was introduced to the Corbin Hill Farm Share when her son was a preschooler at BSEDC. She agreed to serve as the volunteer coordinator when Bed Stuy Restoration approached parents, teachers and administrators about forming and participating in a farm share. The Center for Healthy Neighborhoods at Bedford Stuyvesant Restoration leads a Farm to Early Care initiative connecting children and families to farm fresh foods at child care center throughout Brooklyn. BSEDC represents the first site where Restoration facilitated a partnership between Corbin Hill and a Brooklyn Head Start program. Alexis now works part time for Bedford Stuyvesant Restoration where she coordinates the Farm Share at BSEDC and other sites.