Justice Together
Corbin Hill is constantly seeking out organizations who are creating real impact in their community. One of our most recent Farm Share sites,WE ACT For Environmental Justice, is a community-based organization that over its 30 years has gained national recognition and awards for its work in empowering and organizing low-income, people of color to build healthy communities for all. Peggy Sheppard, Co-Founder and Executive Director of WE ACT, spoke with us about how WE ACT started and the importance of partnerships like Corbin Hill and WE ACT.
Peggy Sheppard would never have guessed that she'd be spending a lifetime working in environmental justice. Her passion for this work started while she was working on a project in West Harlem as a Democratic district leader. Peggy learned a nearby sewage plant was making people sick and thus began an 8-year campaign that she organized to hold the city accountable for making sure the plant was managed in a way that was safe for the nearby community residents. The outcome of this 8-year journey resulted in winning a $1.1 million lawsuit against the city that mandated how the plant would continue to operate.

After this foray into environmental justice work, Peggy continued to find and address issues within the community. She learned that one-third of the NYC buses were held on bus fleets in uptown depots located in communities that were primarily made up of low-income and people of color. The bus depot had been in the community for many years, and buses would hang around idling, which released diesel, a known carcinogen, into the air. This problem was a prime example of environmental racism, which is the disproportionate exposure of pollutants and denial of ecological benefits (clean air, water, and natural resources) in socially marginalized, minority communities. They assembled a task force but quickly learned they needed a legal entity in order to sue. This is how West Harlem Environmental Action, now WE ACT, was created. They filed a Title VI complaint against the MTA, stating that the MTA's housing of six of its eight depots in Harlem and Washington Heights constitutes racial discrimination because it exposed minority districts to higher levels of diesel exhaust. Through this, they were able to get the MTA to invest in compressed natural gas and hybrid buses along with the building of the first Green Bus Terminal in the country. Now every city bus is cleaned up and every community resident is benefiting from cleaner air.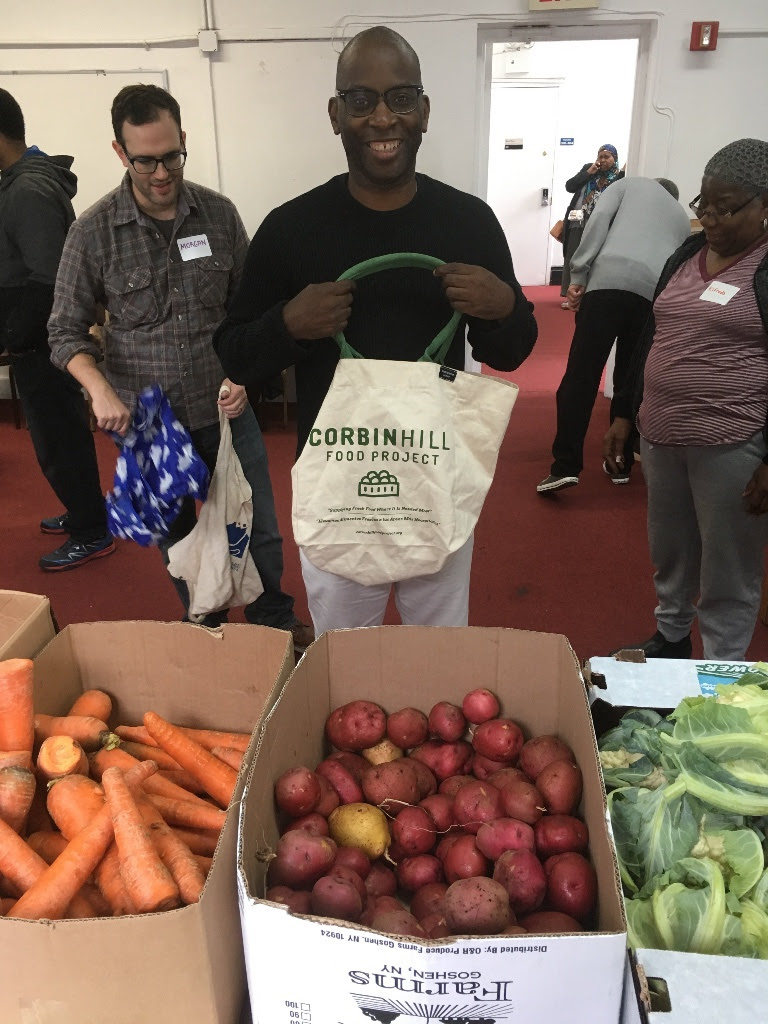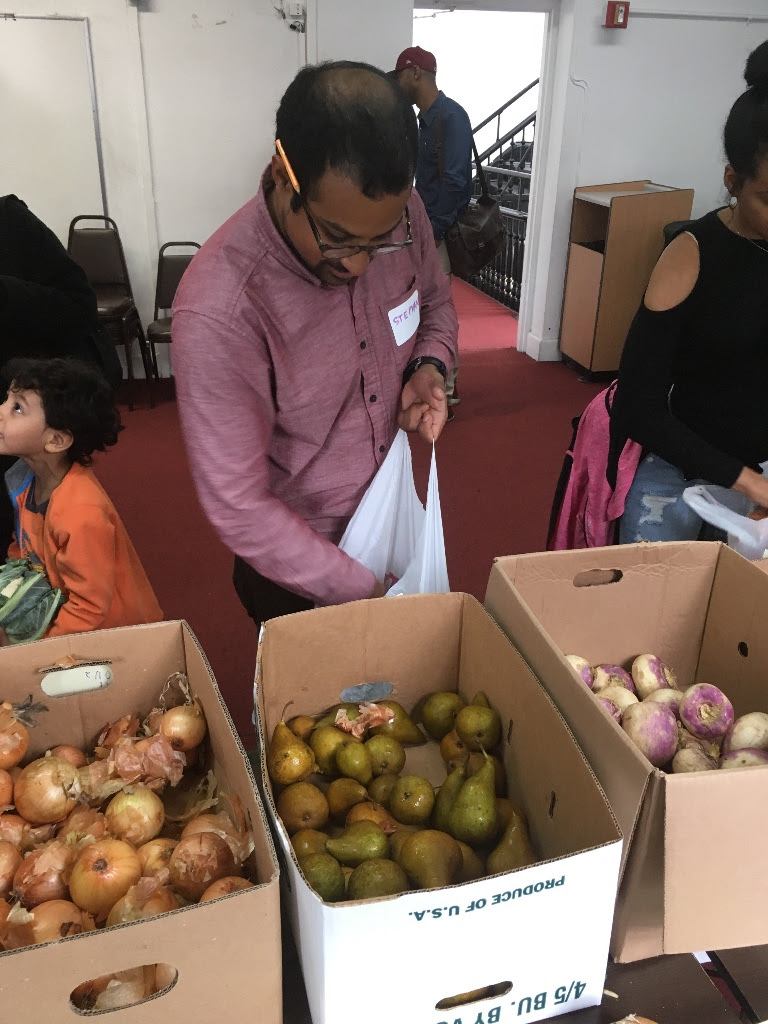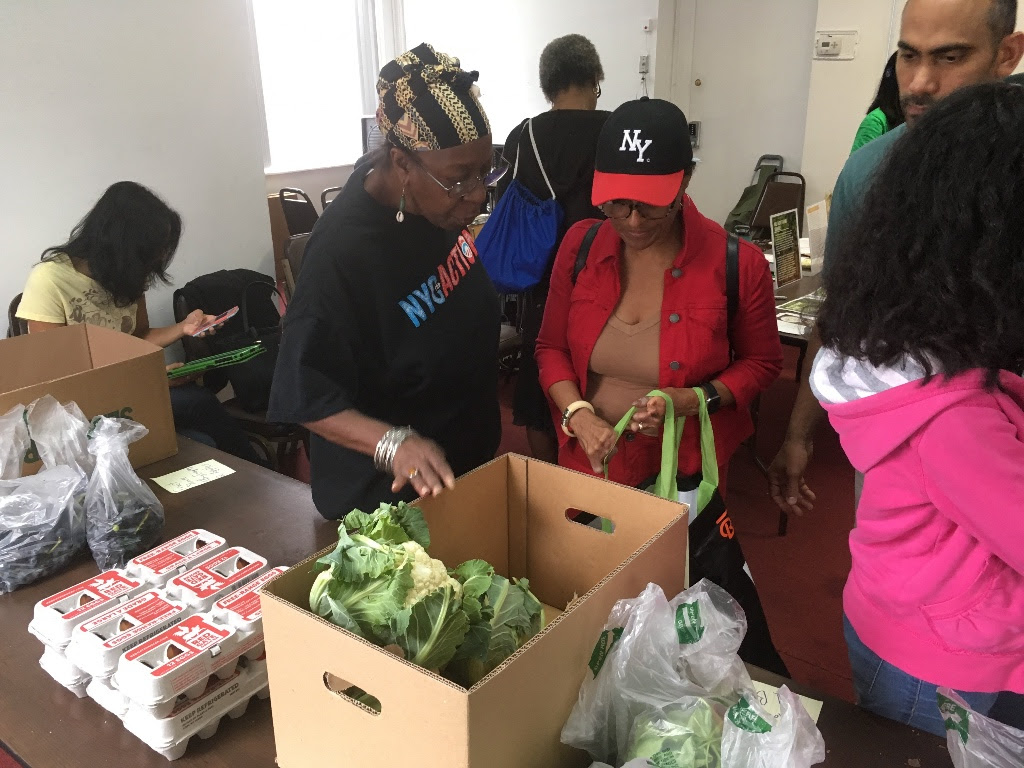 What started as a small task force of volunteers, has grown over the years into a 600 member organization with plans to reach 1000 members by the end of 2018. Every second Saturday of the month these members gather to plan, organize, and advocate towards building a healthier community. Corbin Hill has had a long-standing partnership with WE ACT. Dennis Derryck, Founder of Corbin Hill, has worked alongside Peggy for many years and was one of the eight community litigants in the initial suit filed against the city He is also the founding President of WE ACT's Board and given their shared values, Peggy currently serves as Corbin Hill's Board co-chair.
Peggy has always been very involved in supporting Corbin Hill's work. One of WE ACT's values is supporting New York grown food because it reduces the impact on the environment. Even though WE ACT is not actively working on food justice, it is an issue that its members have identified as an area of interest. The Corbin Hill Farm Share allows WE ACT to begin doing work on food justice and support bringing quality food into the community.
Partnerships like WE ACT and Corbin Hill are vital to building healthy, sustainable communities. Peggy commented, "We can't have a healthy, safe environment for community residents without having healthy, accessible, affordable food." Those of us working in the nonprofit space must look past the sector in which we work and look at all the contributors to building a healthy community. Many different elements add up to a sustainable community, and that is what we are all working for. We must realize working in a more collaborative way is the best way to achieve true justice. Peggy's advice for those interested in pursuing work in environmental justice is: "Always be optimistic. You can't be an advocate without having hope and optimism for the future." Achieving justice requires commitment. Commitment and community collaboration are the necessary ingredients for creating a better future for all.
This week, all sites will be receiving either cherry or plum tomatoes. Some will be red and some will be golden. Cherry tomatoes are the smallest. They are round, sweet, and juicy. Plum tomatoes are a bit larger than cherry tomatoes and have an oval shape. They have a mild acidity and robust flavor. Either variety you receive are great for easy snacking or tossing into your favorite recipe. Check out the following recipes to take your tomatoes to the next level.
Ingredients
 
1 cup red or white quinoa, rinsed
2 cups low-sodium vegetable broth
1 teaspoon kosher salt, plus more
½ red onion, thinly sliced
3 tablespoons balsamic vinegar
4 large eggs
1 bunch spinach, trimmed, leaves torn or coarsely chopped (about 6 cups) or your favorite green
1-pint cherry or plum tomatoes,halved
Freshly ground black pepper
Directions
1. Bring quinoa, broth, and 1 tsp. salt to a boil in a medium saucepan. Cover, reduce heat, and simmer until quinoa is tender, 8–10 minutes. Remove from heat and let sit 15 minutes; fluff with a fork. Meanwhile, toss onion and vinegar in a small bowl; set aside.
2. Bring 2" water to a boil in a large saucepan; reduce heat so water is at a gentle simmer and add vinegar. Crack an egg into a small bowl, then gently slide the egg into water. Repeat with remaining eggs, waiting until whites of eggs in water are opaque before adding the next egg (about 30 seconds apart). Poach until whites are set but yolks are still runny, about 3 minutes. Using a slotted spoon, transfer eggs to paper towels as they are done.

3. If you do not want a poached egg, you may add a fried or sunny-side up egg to this dish.

4. Toss quinoa with spinach, tomatoes, and reserved onion. Serve topped with eggs and seasoned with salt and pepper.

Recipe adapted from Bon Appétit
Cook Time: 30 mins
PIZZA MARGHERITA
Ingredients
 
1 13.8-ounce tube refrigerated pizza dough
1 tablespoon extra-virgin olive oil
1 12-ounce bag cherry or plum tomatoes, stemmed
1 garlic clove, pressed
1/2 teaspoon fennel seeds, coarsely crushed in a plastic bag
1/4 teaspoon dried crushed red pepper
1 4-ounce ball fresh mozzarella in water (ovoline), diced
4 ounces whole-milk mozzarella, diced
1/3 cup chopped fresh basil leaves plus small leaves for garnish
Directions

1. Position rack in top third of oven and preheat to 425°F. Unroll dough on a heavy, large baking sheet; pull to about 12x8-inch rectangle, pinching any tears to seal. Fold over the edge of dough to make a border.
2. Heat large skillet over high heat 2 minutes. Add oil, then tomatoes; sprinkle with salt and pepper. Sauté until tomatoes are charred and beginning to break down, about 5 minutes. Transfer to large bowl.
3. Mix in garlic, fennel, and crushed red pepper. Using back of a fork, crush tomatoes in a bowl, leaving large chunks intact. Season mixture with salt and pepper. Toss cheeses and chopped basil in medium bowl.
4. Sprinkle cheese mixture evenly over dough, right up to the border. Spoon on tomato mixture in dollops, leaving some cheese uncovered. Bake pizza until crust is crisp and brown, 25 to 30 minutes.
5. Loosen pizza with a metal spatula and slide onto the board. Garnish with basil leaves.

Recipe adapted from Epicurious
Cook Time: 40 mins