Feed the Future
When you walk across Lehman College, there is a certain energy that hits you. Everyone is racing off to their next class, their minds filled with to do lists and nerves about upcoming exams and deadlines. Most students don't have time to take a breath much less worry about their diet. A recent study outlined that 48% of college students experience food insecurity at least once a month, and 55% of students who struggle with food insecurity forego textbook purchases. These statistics have horrible implications for these student's academic success. For this reason, Corbin Hill seeks partnerships with college universities in an effort to bridge the hunger gap and make sure our nation's future leaders have what the need to succeed.
Lehman College was Corbin Hill's first college partnership and has been an active site for nearly 6 years. Paul Wasserman, former director of Lehman's Adult Learning Center, has helped coordinate the site over the years. Paul retired in 2011 but chose to work with Corbin Hill as a retirement project. While Paul was working at Lehman, a Health Literacy program was launched. The program focuses on helping healthcare providers present information in ways that allowed low-income individuals to better understand health issues. They identified part of the problem as being lack of understanding around nutrition and healthy eating and the other part as inadequate access to healthy foods.
Paul first realized healthy food access was an issue while he was teaching. He had several students from Africa in his class who talked about how much healthier their diet was when they were back home in Africa. They were accustomed to eating fresh fruits and vegetables every day, and when they came to the US they had a harder time finding fresh, healthy food and were appalled at what they saw people eating. Coincidentally, Corbin Hill was exploring a Farm Share site at Lehman and Paul immediately volunteered to coordinate distribution given his growing interest in healthy food access at the campus.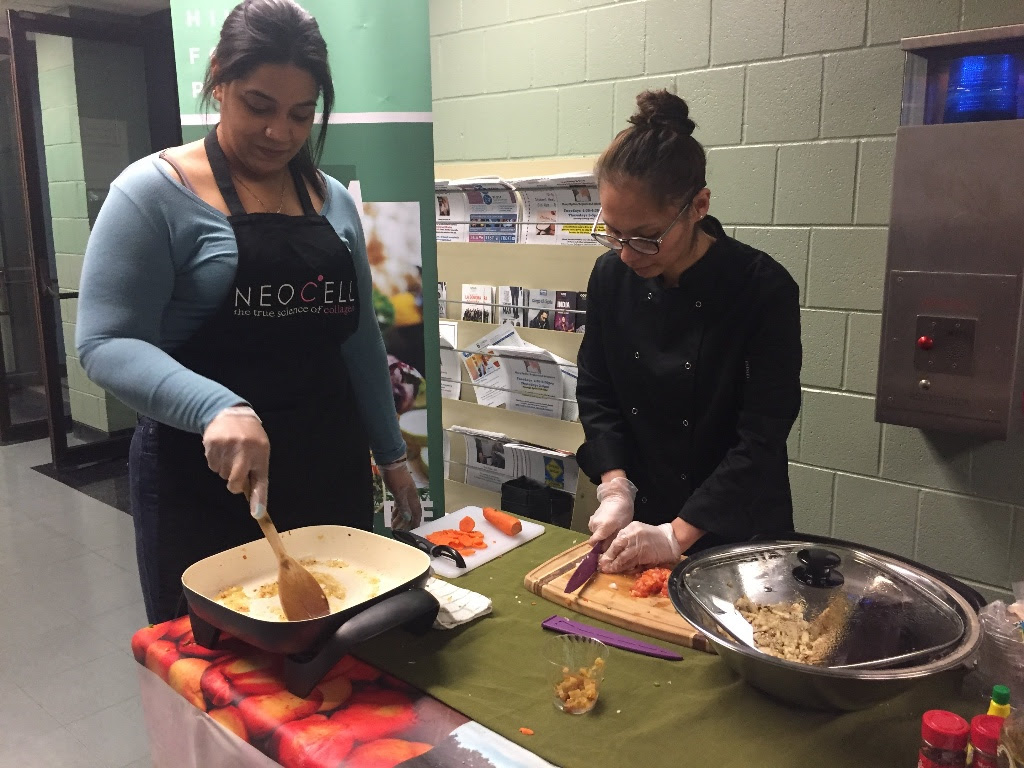 Paul asked a few of his students to help him run the Farm Share site, and the program quickly took off. There was a giant need and interest in participating in Farm Share. Many students were coming up to the table and asking if they could purchase just one apple or some tomatoes, so Paul decided to expand the program by ordering through Corbin Hill's Wholesale program to create a Lehman Farm Stand. This way, students could sign-up through Farm Share to pick-up their fresh veggies each week, or they could stop by the Farm Stand and purchase fresh fruits and veggies on the spot.
The Farm Share at Lehman has made great strides in creating more access for students, but it goes beyond that. Paul shared that the Farm Stand has acted as a transition point and grounding for many of his student interns. The Farm Stand serves as a connection to the campus for students in the Adult Learning program.
Besides coming to class, many of these students do not have a connection to Lehman campus life. The Farm Stand allows them to be part of a campus activity as well as teaches them valuable skills. Paul mentioned that a number of the students have improved their math skills from having to total up purchases and give back change.
Lehman is the perfect picture of what Corbin Hill aims to do through our programs. Yes, we seek to provide access to communities in need, but we also want Farm Share to represent a larger vision. We want it to provide people with a sense of community, belonging, and ownership. One of the new ways the Farm Share program has grown this year is through a partnership with the Nutrition Department, where current students enrolled in the program prepare food samples with items from the Farm Share and Farm Stand. This provides participants with new ideas for how to prepare meals with the items that they receive each week. Paul has high hopes and big dreams for the Farm Share program at Lehman. He hopes to be able to grow and expand in order to offer more students the chance to participate. We love and admire people like Paul who are willing to go the distance for the causes and people they care about.
All sites this week will be getting either Easter Egg or French Breakfast radishes. Easter Egg radishes are petite and round. They range in color from white to pink to crimson to purple, all in one bunch! Easter Egg radishes have a crisp, fresh, mild radish flavor. French Breakfast radishes are oblong in shape and are known for their coloring that graduates from fuchsia-red to bright white at the tip. They are crisp and offer a mild, spicy flavor. Grilling or oven roasting (see bonus recipe below) will bring out the subtly sweet and nutty flavor of the French Breakfast radishes.
Ingredients
3 lb pork shoulder roast, cut into 2-inch chunks
1 big or 2 medium white onions, roughly chopped
2 garlic cloves, minced
1 cup chicken stock
½ cup tomato sauce
1 tbsp honey
1 tbsp apple cider vinegar
1 tbsp pork lard
1 tsp cumin
1 tsp oregano
½ tsp red pepper flakes
2 tsp chili powder
½ tsp cinnamon
few sprigs of fresh thyme
few bay leaves
salt and freshly ground black pepper to taste
1 cup radishes, diced
½ lemon juice + zest
2 tbsp green onion, diced
¼ cup cilantro, chopped
For garnishing: avocado and lime wedges, cilantro, tortillas, Queso Fresco cheese
Directions

1. Add pork lard into the pressure cooker pot and set the mode to sauté. Brown the meat on all sides and season it with salt and pepper.
2. Add onion, garlic, bay leaves and the rest of the spices. Mix well and give it all a good sear for about 10 minutes or until the onion turns golden brown and becomes translucent.
3. Add the tomato sauce, honey, vinegar and stock to the meat. Set the pressure cooker lid on and switch the mode to pressure for 45 minutes.
4. Carefully release the pressure button to let the steam out. Carefully remove the lid and take out the meat. Shred it using two forks.
5. To prepare the radish salsa combine diced radishes, green onion, cilantro and lemon juice with its zest. Mix well and serve on warm tortillas over pork carnitas.
6. Garnish with avocado, lime, cilantro and Queso Fresco cheese.

Recipe adapted from Gastro Senses
Cook time: 45mins.
Crispy Roasted Radishes
Ingredients

2 bunches radishes about 20, halved
3-4 tablespoons olive oil
1/4 teaspoon salt plus more to taste when done
1/4 teaspoon black pepper
1/4 teaspoon smoked paprika
1/4 teaspoon onion powder
1/4 teaspoon garlic powder
Directions

1. Preheat oven to 400°
2. Toss radishes with olive oil and spices. Roast for 30-40 minutes until golden and crispy. Season with extra salt to taste.

Recipe adapted from Wicked Spatula
Cook time: 30-40mins.